Uyire RRR song lyrics penned by Madhan Karky, music composed by Maragadhamani, and sung by Maragathamani & Chorus from the movie RRR.
---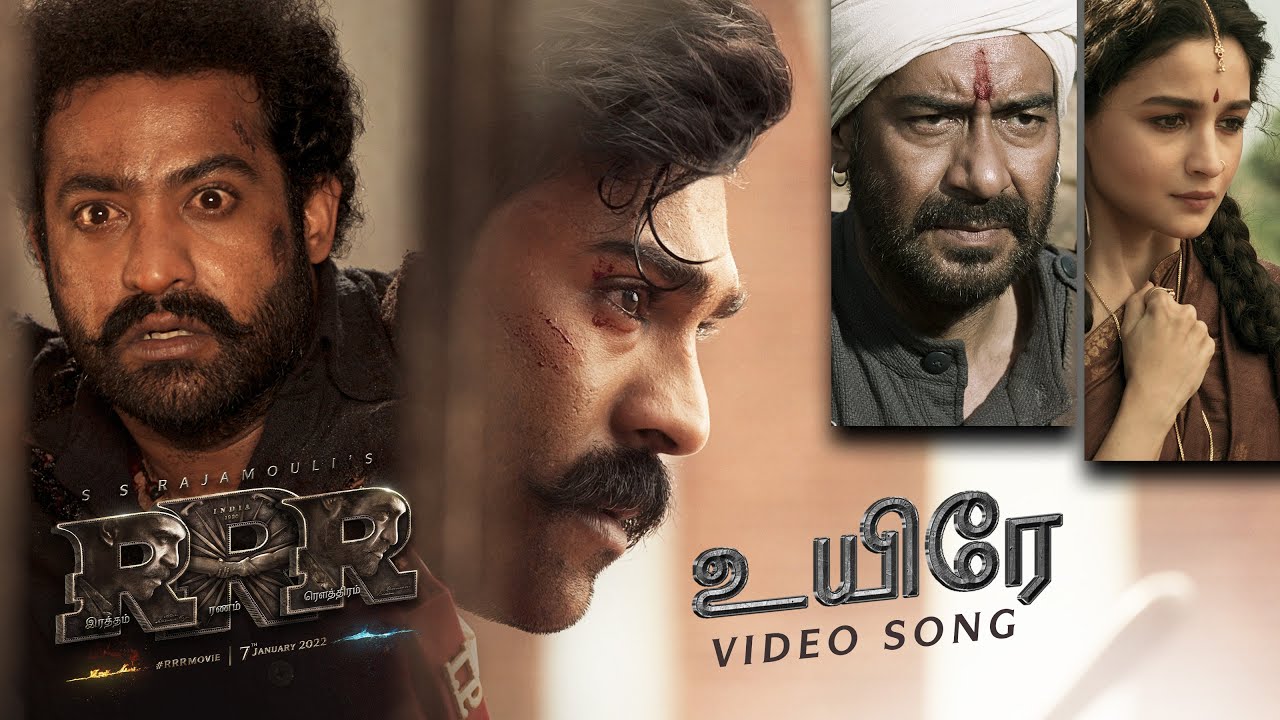 ---
| | |
| --- | --- |
| Song Name | Uyire RRR |
| Singer | Maragathamani & Chorus |
| Music | Maragadhamani |
| Lyricst | Madhan Karky |
| Movie | RRR |
---
Uyire RRR Song Lyrics in English

Uyire, Ae Ae
Unakkaagave Uyire, Uyire
Keezh Vizhum
Endhan Vizhi Neere
En Nandri Dhaane Uyire

En Moochum
Undhan Varalaare
Nee Yetrukol En Uyire

Uyire, Ae Ae
Un Meedhu
Thoovi Vanangaa
Sempookkal Pol
En Kurudhi

Naan Aazhnthurundhu Urangaa
Madiyaagi Nalgu Amaidhi
Naan Veezhum
Bodhum Nooraguven
Unnakkendrum Illai Irudhi
Uyire, Ae Ae




Uyire Song Lyrics in Tamil

உயிரே, ஏ ஏ
உனக்காகவே உயிரே, உயிரே
கீழ் விழும்
எந்தன் விழி நீரே
என் நன்றி
தானே உயிரே

என் மூச்சும்
உந்தன் வரலாறே
நீ ஏற்றுக்கொள்
எந்தன் உயிரே

உயிரே, ஏ ஏ
உன் மீது
தூவி வணங்க
செம்பூக்கள்
போல் என் குருதி

நான் ஆழ்ந்துருந்து உறங்க
மடியாகி நல்கு அமைதி

நான் வீழும்
போதும் நூராகுவேன்
உனக்கென்றும்
இல்லை இறுதி
உயிரே, ஏ ஏ

Download The Song On Wynk Music


Uyire RRR song frequently asked questions
Check all frequently asked Questions and the Answers of this questions
This Uyire RRR song is from this RRR movie.
Maragathamani & Chorus is the singer of this Uyire RRR song.
This Uyire RRR Song lyrics is penned by Madhan Karky.
Initial release: 
24 March 2022
Director: 
S. S. Rajamouli
Nominations: 
Golden Globe Award for Best Foreign Language Film, 
Awards: 
New York Film Critics Circle Award for Best Director, Oscar for Best Original Song
'Naatu Naatu' song from film 'RRR' wins the 'Best Original Song' at 95th Academy Awards. M.M. Keeravaani has brought the spotlight back to India after an Oscar musical win. Keeravaani won best original song for his  "Naatu Naatu" from the film "RRR."