Maiyaale song lyrics penned by Ku Karthik, music composed by Revaa, and sung by Praniti from the movie Ayali.
---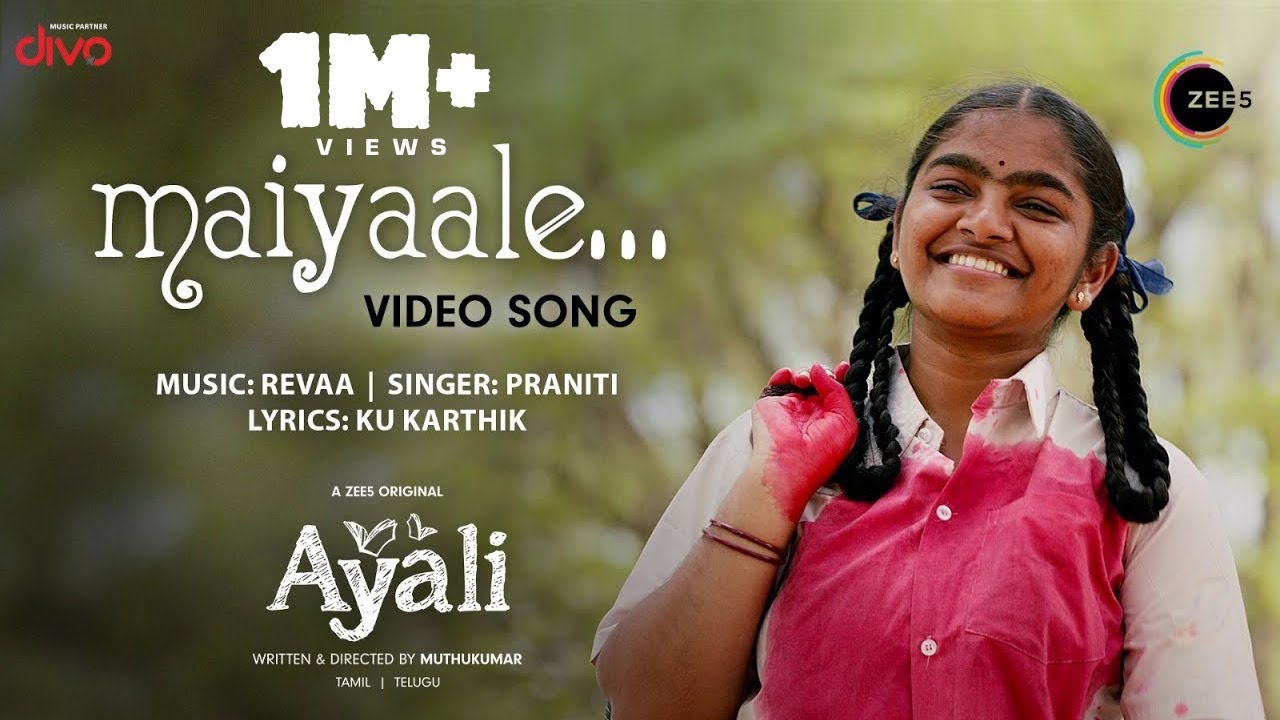 ---
| | |
| --- | --- |
| Song Name | Maiyaale |
| Singer | Praniti |
| Music | Revaa |
| Lyricst | Ku Karthik |
| Movie | Ayali |
---
Maiyaale Song lyrics
Maiyaale Song Lyrics English
Puthusha Perusha
Kanava Naan Kaannuren
Perusha Perusha
Puyalaa Naan Maaruren

Ohh Kannurenda Kattikittu
Thikku Thesa Thedunna
Muttakkanna Suthikittu Thaavuraa

Vanndi Kattum Urukullee
Thandavaalam Senju Vachu
Ink Ku Oothi Innchinaiey
Ottutra

Parakuthu Kalae
Sevanthaale

Mithakkuren Mele
Myaale

Kanavaa Nijamaa
Kara Sera Pogiren

Azhga Azhga
Nilava Na Maruren

Katti Vaacha Kaathadiya
Kattukulae Nikkaamale
Rekka Virichalae
Intha Keechutha

Ooru Potta Koodu Ippa
Ink Ku Pattu Kaanalieae

Sekkasevanthaache
Iva Vaananthaa

Athiruthu Vurey
Sevaanthaalae

Sirikiren Naane
Myaale


Maiyaale Paadal Lyrics in Tamil:

புதுசா பெருசா கனவா நான் காணுறேன்
பெருசா பெருசா புயலா நான் மாறுறேன்

ஓ கண்ணு ரெண்டும் கட்டிக்கிட்டு
திக்கு தெச தேடுனவ
முட்டக்கண்ண சுத்திக்கிட்டு தாவுறா

வண்டி கட்டும் ஊருக்குள்ள
தண்டவாளம் செஞ்சு வச்சு
இன்கு ஊத்தி இஞ்சினையே ஓட்டுறா

லே லே லே லே
பறக்குது காலே
லே லே லே லே
செவந்தாலே
லே லே லே லே
மிதக்குறேன் மேலே
லே லே லே லே
மையாலே

கனவா நிஜமா
கர சேர போகுறேன்
அழகா அழகா
நெலவா நா மாறுறேன்

கட்டி வச்ச காத்தாடியா
கட்டக்குள்ள நிக்காமலே
றெக்க விரிச்சாளே
இந்த கீச்சுதா

ஊரு போட்ட கோடு இப்போ
இன்கு பட்டு காணலயே
செக்கசெவந்தாச்சே
இவ வானந்தா

லே லே லே லே
அதிருது ஊரே
லே லே லே லே
செவந்தாலே
லே லே லே லே
சிரிக்கிறேன் நானே
லே லே லே லே
மையாலே

Download The Song On Wynk Music


Watch Maiyaale Song Video
Maiyaale song frequently asked questions
Check all frequently asked Questions and the Answers of this questions
This Maiyaale song is from this Ayali movie.
Praniti is the singer of this Maiyaale song.
This Maiyaale Song lyrics is penned by Ku Karthik.