Komaram Bheemudu Song Lyrics|NTR, Ram Charan | RRR Songs | SS Rajamouli | Hindi Songs
Komaram Bheemudu song lyrics penned by Varun Grover, music composed by M M Kreem, and sung by Kaala Bhairava from the movie RRR.
---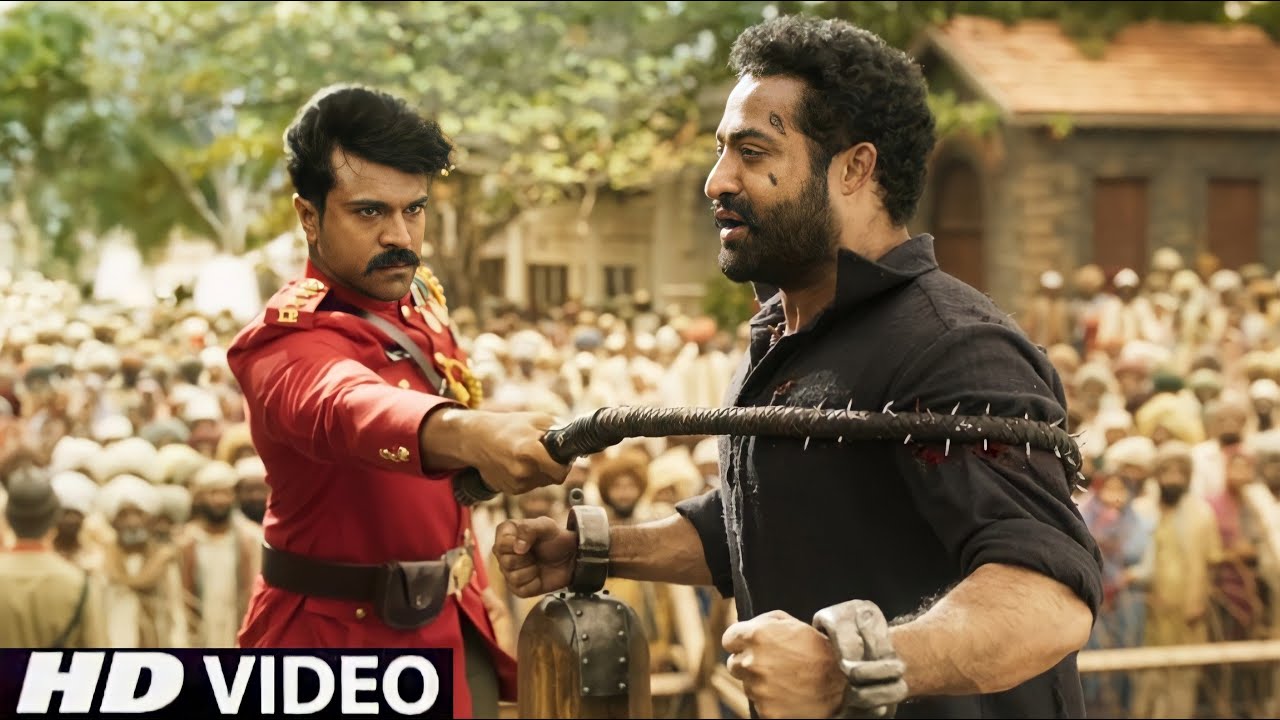 ---
| | |
| --- | --- |
| Song Name | Komaram Bheemudu |
| Singer | Kaala Bhairava |
| Music | M M Kreem |
| Lyricst | Varun Grover |
| Movie | RRR |
---
Komaram Bheemudu Song lyrics
Komuram Bheemudo Lyrics RRR (Full Lyrics)

Komuram Bheemudo
Komuram Bheemudo
Sooraj Ke Sholon Se
Milna Hai Tujhko
Milna Haai Tujhko.

Komuram Bheemudo
Komuraam Bheemudo
Rag Rag Jwaala Sa
Jalna Hai Tujhko
Jalna Hain Tujhko.

Zulmi Ke Pairon Me
Kuchhla Raha Haan
Sakhon Se Tuta Tu
Patta Nahi Wohh
Patta Nahi Woh.

Zulmi Ki Chhaukhat Ko
Ghaar Jo Kaha Haan
Phhir Yeh Janam Tera
Sacha Nahi Ho
Sachha Nahi Ho.

Komuram Bheemudo
Komuram Bhemudo
Sooraj Ke Sholon Se
Milnaa Hai Tujhko
Milna Hai Tujhko.

Chabuk Chala Lo Yeh
100–100 Dafa Haan
Yeh Khoon Baghi Hai
Yeh Kab Daara Haan.

Ik Bhi Jo Ankhon Se
Aansu Geera Naa
Mati Se Toota Yeh
Dhaga Wahi Ho
Dhaaga Wahi Ho.

Komuram Bheemudo
Komaram Bheem Udo
Suraj Ke Sholon Se
Milna Hain Tujhko
Milna Hai Tujhko.

Nadiya Saa Behta Woh
Dil Kaa Tu Lohu.

Nadiya Sa Behta Woh
Dil Ka Tu Lohoo
Dharti Ma Sunti
Woh Sargam Hai Lohu.

Mathe Ka Hai Maa Ke
Chandan Yeh Loohu
Dil Ke Paarvat Dhwaj
Lehrata Yehh Lohu.

Komuram Bheemudo
Komaram Bheem Udo
Maati Me Milke Hi
Jeena Hain Tujhko
Komuram Bhemudo.




RRR Komuram Bheemudo Lyrics In Hindi (Full Song Lyrics)

कॉमुरम भीमुडो
कॉमुरम भीमुडो
सूरज के शोलों से
मिलना है तुझको
मिलना है तुझको।

कॉमुरम भीमुडो
कॉमुरम भीमुडो
रग रग की ज्वाला सा
जलना है तुझको
जलना है तुझको।

ज़ुल्मी के पैरों में
कुचला रहा हाँ
साखों से टूटा तू
पत्ता नही वो, पत्ता नही वो।

ज़ुल्मी की चौखट को
घर जो कहा हाँ
फिर यह जनम तेरा
सच्चा नही हो सच्चा नही हो।

कॉमुरम भीमुडो
कॉमुरम भीमुडो
सूरज के शोलों से
मिलना है तुझको
मिलना है तुझको।

चाबुक चला लो ये
100–100 दफ़ा हाँ
ये खून बाघी है
ये कब डरा हाँ।

इक भी जो आँखों से
आँसू गीरा ना
माटी से टूटा ये
धागा वही हो
धागा वही हो।

कोमुरम भीमूड़ो
कोमुरम भीमूड़ो
सूरज के शोलों से।

मिलना है तुझको
मिलना है तुझको।

नदिया सा बहता वो
दिल का तू लोहू।

नदिया सा बहता वो
दिल का तू लोहू
धरती माँ सुनती
वो सरगम है लोहू।

माथे का है माँ के
चंदन ये लोहू
दिल के पर्वत ध्वज
लहराता ये लोहू।

कोमुरम भीमूड़ो
कोमुरम भीमूड़ो
माटी में मिलके ही
जीना है तुझको
कोमुरम भीमूड़ो।

Download The Song On Wynk Music


Komaram Bheemudu song frequently asked questions
Check all frequently asked Questions and the Answers of this questions
This Komaram Bheemudu song is from this RRR movie.
Kaala Bhairava is the singer of this Komaram Bheemudu song.
This Komaram Bheemudu Song lyrics is penned by Varun Grover.
Initial release: 
24 March 2022
Director: 
S. S. Rajamouli
Nominations: 
Golden Globe Award for Best Foreign Language Film, 
Awards: 
New York Film Critics Circle Award for Best Director, Oscar for Best Original Song
'Naatu Naatu' song from film 'RRR' wins the 'Best Original Song' at 95th Academy Awards. M.M. Keeravaani has brought the spotlight back to India after an Oscar musical win. Keeravaani won best original song for his  "Naatu Naatu" from the film "RRR."