Kantara – Karme Rayiga Song Lyrics penned by Rambabu Gosala, music composed by B Ajaneesh Loknath, and sung by Sri Krishna from the movie Kantara.
---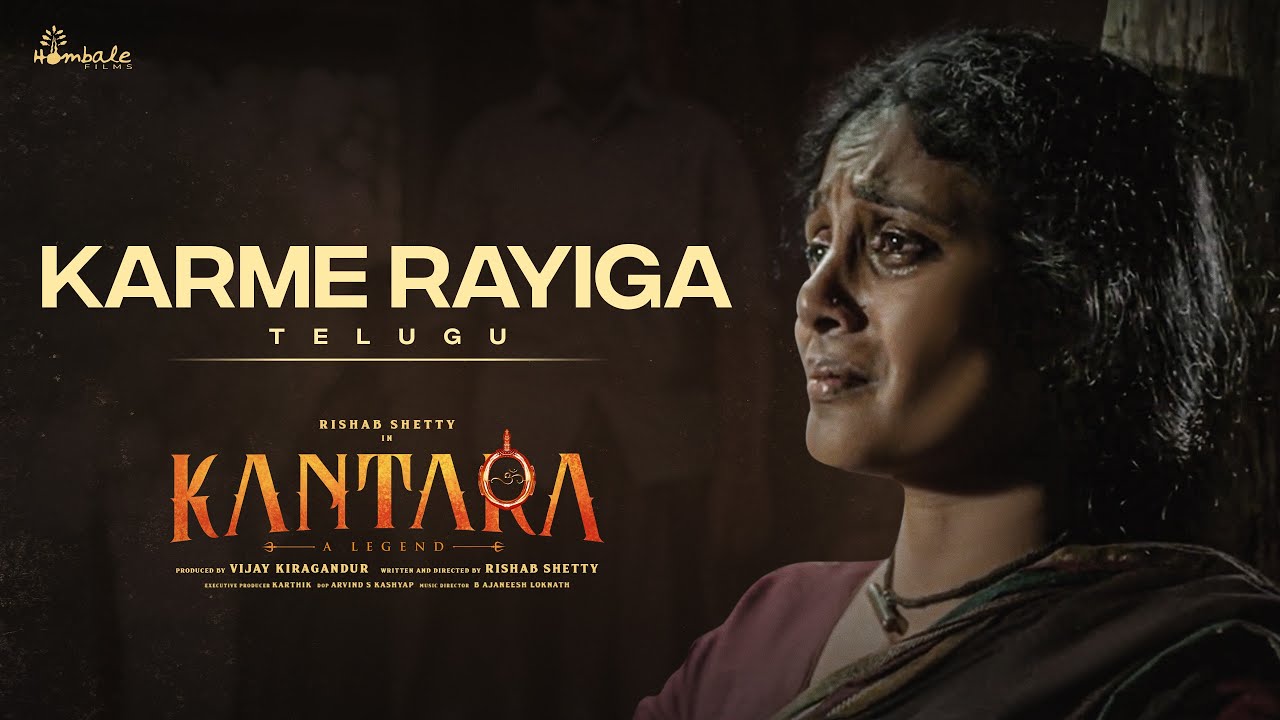 ---
| | |
| --- | --- |
| Song Name | Karme Rayiga |
| Singer | Sri Krishna |
| Music | B Ajaneesh Loknath |
| Lyricst | Rambabu Gosala |
| Movie | Kantara |
---
Karme Rayiga Song Lyrics in English

Download song on Wynk Music
Karme Rayiga Kaaliki Tagilithe
Regina Gaayame Maanunaa
Pagatho Raguluthu Poojalu Jaripithe
Gudilo Daivame Undunaa

Cheekatini Tarimenduku
Velige Chinna Deepam
Ooroorantha Thagalabette
Jhwaalayindhi Ento

Oo Oo, Orchukune Badha Kaadhee Talaraatha
Bathukantha Ventapaduthu Tharimenanta
Maarchukune Veelu Ledhe Vidhi Raatha
Neeloni Ninu Vethukuthu Kadalaalata

Vidichipettuthunna
Mana Paapam Gangallona
Vadhilipettadhantaa Paschhaathhaapam
Kallonainaa Aa Aaa

Ahamutho Egiraavante
Mello Poolamaale
Raali Raali Dhanda Vidichi
Aa Puvvule


Karme Rayiga Song Lyrics in Telugu

కర్మే రాయిగా కాలికి తగిలితే
రేగిన గాయమే మానునా
పగతో రగులుతూ పూజలు జరిపితే
గుడిలో దైవమే ఉండునా


చీకటిని తరిమేందుకు
వెలిగే చిన్న దీపం
ఊరూరంతా తగలబెట్టే
జ్వాలయింది ఏంటో

హే, హా ఏ ఏ ఓ ఏ ఏ ఆ
ఆరె ఆరో నే రానీనో రే నో

ఓ ఓ, ఓర్చుకునే బాధ కాదీ తలరాత
బతుకంతా వెంటపడుతు తరిమేనంటా
మార్చుకునే వీలు లేదే విధి రాత
నీలోని నిను వెతుకుతు కదలాలటా

విడిచిపెట్టుతున్న
మన పాపం గంగల్లోన
వదిలిపెట్టదంటా పశ్చాత్తాపం
కల్లోనైనా టెన్ టు ఫైవ్ ఆ ఆ

అహముతో ఎగిరావంటే
మెళ్ళో పూలమాలే
రాలి రాలి దండ విడిచి
ఆ పువ్వులే

హే, హా ఏ ఏ ఓ ఏ ఏ ఆ
ఆరె ఆరో నే రానీనో రే నో


Karme Rayiga song frequently asked questions
Check all frequently asked Questions and the Answers of this questions
This Karme Rayiga song is from this Kantara movie.
Sri Krishna is the singer of this Karme Rayiga song.
This Karme Rayiga Song lyrics is penned by Rambabu Gosala.