Emanti Nabayaa song lyrics penned by Penchal Das, music composed by Sweekar Agasthi, and sung by Mangli from the movie Like Share and Subscribe.
---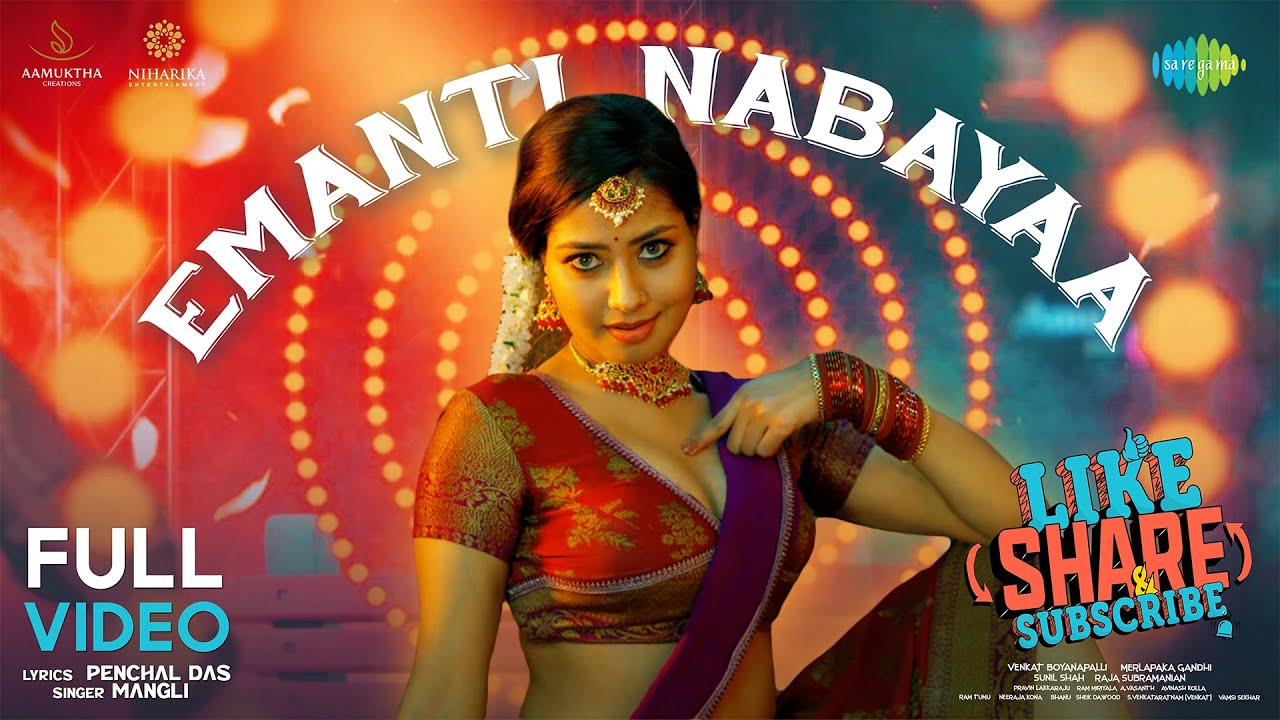 ---
| | |
| --- | --- |
| Song Name | Emanti Nabayaa |
| Singer | Mangli |
| Music | Sweekar Agasthi |
| Lyricst | Penchal Das |
| Movie | Like Share and Subscribe |
---
Emanti Nabayaa Song lyrics
ఏమంటి నబ్బాయా
నే ఏమి సేత్తునబ్బాయా
నా ఇమలగిరి కమలా
నా కమల కిచిరి పండా

ఏమంటి నబ్బాయా
నే ఏమి సేత్తునబ్బాయా
నా ఇమలగిరి కమలా
నా కమల కిచిరి పండా

ఏమంటి నమ్మాయా
నే నేమి సేత్తునమ్మాయా
నా ఇమలగిరి కమలా
నా కమల కిచిరి పండా

నా పెదవి దొండ పండు
నా మనసు నీమీదుండు
ఒక్కసారి నన్ను కూడి
నా దిగులు తీర్చిపోరా

నీ పెదవి దొండ పండు
నీ మనసు నామీదుండు
ఒకసారి నిన్ను కూడి
నీ దిగులు తీర్చిపోతా

పైట జారే వయసు
భలే పొగలు సెగలురా
అబ్బాయా టెన్ టు ఫైవ్, అబ్బా
నా సొగసు బిగువు సూసి
సందేళ రారా అబ్బాయా

పైట జారే పైట జారే
పైట జారే వయసు
భలే పొగలు సెగలురా అమ్మాయా, అట్టనా
నీ సొగసు బిగువు సూసి
సందేళ వస్తమే అమ్మాయా

Download The Song On Wynk Music
Watch Emanti Nabayaa Song Video
Emanti Nabayaa song frequently asked questions
Check all frequently asked Questions and the Answers of this questions
This Emanti Nabayaa song is from this Like Share and Subscribe movie.
Mangli is the singer of this Emanti Nabayaa song.
This Emanti Nabayaa Song lyrics is penned by Penchal Das.