Dooram Karigina song lyrics penned by Shree Mani, music composed by Karthik Kodakandla, and sung by Sid Sriram from the movie Jetty.
---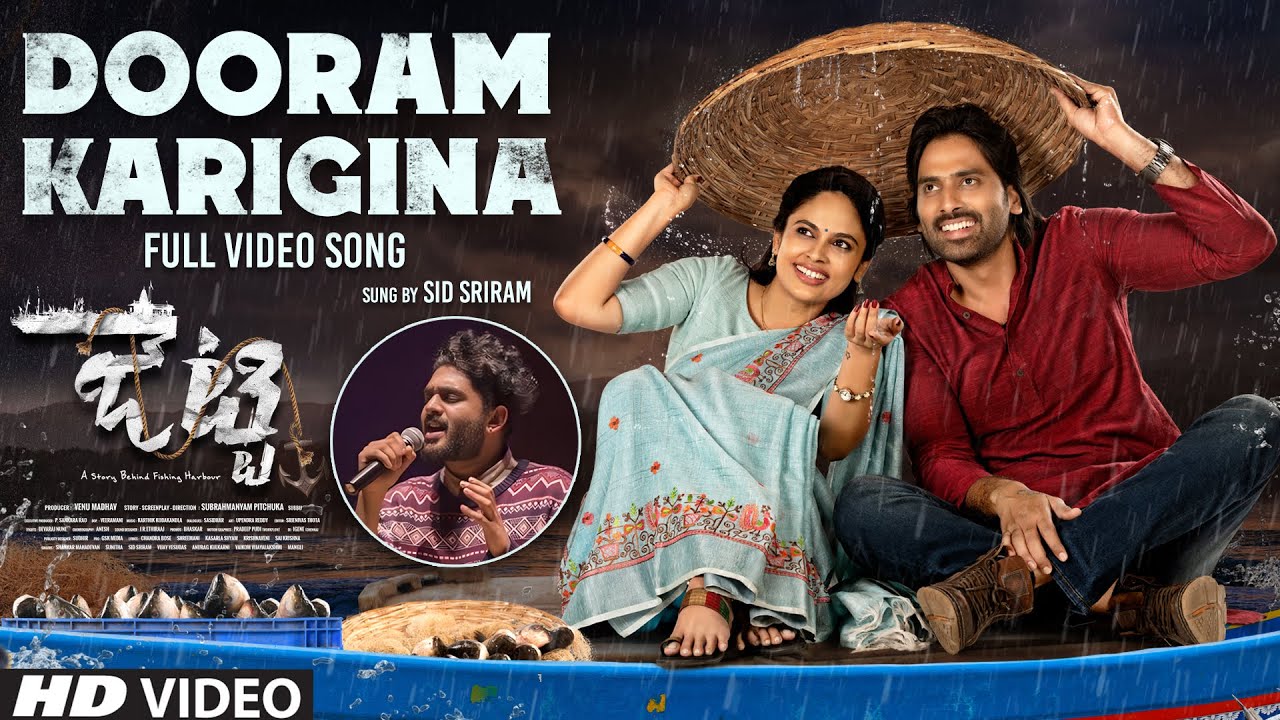 ---
| | |
| --- | --- |
| Song Name | Dooram Karigina |
| Singer | Sid Sriram |
| Music | Karthik Kodakandla |
| Lyricst | Shree Mani |
| Movie | Jetty |
---
Dooram Karigina Song lyrics
Dooram Karigina Song Lyrics In Telugu & English
Dooram Kariginaa… Madhi Mounam Karugunaa
Theepi Theepi Maatalenno Pedavi Dhaatuthunnaa
Gundeloni Theepi Bhaavam Cheppalenidhenaa
Dooram Kariginaa… Mounam Karugunaa
Mounam Kariginaa Abhimaanam Karugunaa
Konte Konte Choopulenno
Reppa Gadapa Dhaatuthunnaa
Gundelona Unna Prema Choopalenidhenaa
Naa Kalale Selave Nee Kalale Koluve
Mooga Kadalai Ponge Manase
Mooga Alale Egasene
Meghamadhilo Chinuku Varase
Karigi Kurisenepudule

Chinni Chinni Adugulenno
Nuvu Velle Dhaarilona
Madhyanunna Addugeetha Dhaatalenidhenaa
Nee Pilupe Madhuram
Oo Oo..! Nee Thalape Kathanam
Thene Unike Edhi Ante Puvvu Edhalo Sthaaname
Naaku Unike Edhi Ante Nuvvu Nadiche Theerame
Kottha Kottha Rojulannee Kaalamalli Jalluthunnaa
Nuvvu Nenu Andhulona Reyi Pagalamenaa

దూరం కరిగినా… మది మౌనం కరుగునా
తీపి తీపి మాటలెన్నో పెదవి దాటుతున్నా
గుండెలోని తీపి భావం చెప్పలేనిదేనా
దూరం కరిగినా… మౌనం కరుగునా
మౌనం కరిగినా అభిమానం కరుగునా

కొంటె కొంటె చూపులెన్నో… రెప్ప గడప దాటుతున్నా
గుండెలోన ఉన్న ప్రేమ చూపలేనిదేనా..?

నా కలలే సెలవే… నీ కలలే కొలువే
మూగ కడలై పొంగే మనసే… మూగ అలలే ఎగసెనే
మేఘమదిలో చినుకు వరసే… కరిగి కురిసేనెపుడులే

చిన్ని చిన్ని అడుగులెన్నో… నువ్వు వెళ్ళే దారిలోన
మధ్యనున్న అడ్డు గీత దాటలేనిదేనా

నీ పిలుపే మధురం
ఓ ఓ..! నీ తలపే కథనం
తేనె ఉనికే ఏది అంటే… పువ్వు ఎదలో స్థానమే
నాకు ఉనికే ఏది అంటే… నువ్వు నడిచే తీరమే

కొత్త కొత్త రోజులన్నీ కాలమల్లి జల్లుతున్నా
నువ్వు నేను అందులోన రేయి పగలమేనా

Dooram Karigina song frequently asked questions
Check all frequently asked Questions and the Answers of this questions
This Dooram Karigina song is from this Jetty movie.
Sid Sriram is the singer of this Dooram Karigina song.
This Dooram Karigina Song lyrics is penned by Shree Mani.